Our Ballroom, hosted on the Discord app, is a central place to play, chat and connect with other attendees. It is where most of the activity for Rhizome Connect will take place throughout the week, so it is worth while to download Discord for desktop and/or mobile. You can also use Discord directly on the website without downloading. If you have never used this app before or have been confused by the app in the past we hope you are not discouraged. We are going to take some extra time here to explain the details so you feel prepared before diving in. We will refer to this space as the Discord, the server and the Ballroom.
---
Things to do?
If you are registered you will receive an email with a link to join the Discord server.
Add an avatar to your account, this helps create a friendly atmosphere.
Consider changing your nickname to encourage networking if you feel comfortable doing so.
Introduce yourself and get your Badge Ribbons
Participate in the Ballroom social Channels and try out the Live voice channels.
Attend our Opening Event! (August 9 1UTC)
Expo Hall Rooms open – Monday August 10 (KST)
Meeting Rooms open gradually over the week – Especially check back for the Popup Topics.
Stay tuned to the server for more announcements.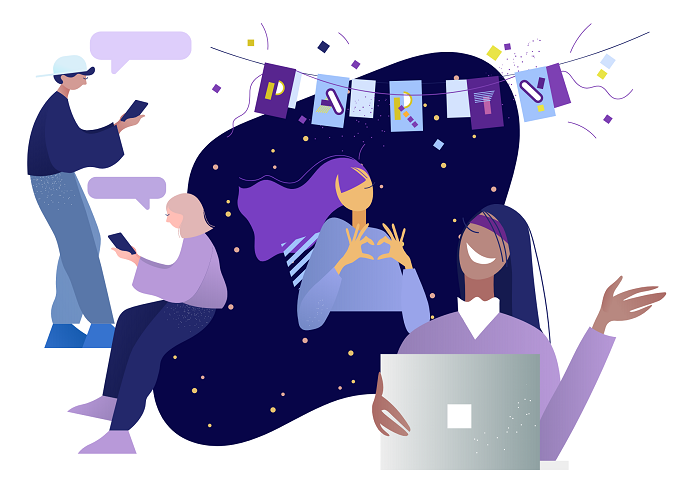 How do I get help?
The Help desk channel is you first best bet in order to find answers to your questions. There are also many questions answered on the Discord Guide. If you are experience harassment or violation of the server guidelines or etiquette please contact a moderator through DM.
Organization
Registration: This is your first stop. We recommend going through each channel in order to save yourself frustration later on. Specifically we suggest setting your notifications, changing your nickname and picture.
Rules: You must read and agree to these in order to access the rest of the server.
Discord Guide: A simplified list of information about how to use Discord.
Help Desk: You can ask questions here about Rhizome Connect and Discord
Directory: Basically the same information you see here.
Badge Ribbons: This is a fun way to tell people a little bit more about yourself
Introductions: Optionally post to introduce yourself personally, professionally and Bangtan style.
Ballroom: These are straightforward social channels. Each has a specific topic, described briefly here – you can also check the description or pinned messages.
Lobby: General chat
Bulletin Board: Notifications from Rhizome Connect and community self promo posts.
Mukbang: Let's eat together! Share photos of your food, recipes and just chat over meals.
✨😍🤯💀✨: This a channel for reactions and when you need to scream in joy!
Gold Stars: Brag a little bit about things you have accomplished this year – big and small! It's been hard, you deserve kudos.
Magic Shop: A place to comfort and be comforted. Described in more detail in the channel.
Army Questions: A place to get your BTS questions answered.
Recommendations: Share all your favorite things – BTS and otherwise.
Expo Hall: This area will open up on Monday August 10 KST (Sunday 9 UTC)
Expo Questions: Channel for scheduled Q&A sessions with Expo Hall exhibitors. Check the pinned message for a schedule.
Expo Feedback: Channel for scheduled feedback and mentoring sessions with Expo Hall exhibitors. Check the pinned message for a schedule.
Research Consult: Opportunity to get feedback about research from representatives from various groups
Meeting Rooms: These are discussion rooms that will open and be added as they are necessary
Main stage: This is a channel to talk about anything going on before, after or in between the live events.
Red Thread: This is a meeting room specifically for Bangtan Universe discussions
Popup: Topics: There are three channels that will have rotating topic prompts.
Live: Voice channels are a new experience for many and are open for attendees to use for ad hoc and scheduled interaction. Contact a moderator or the help desk if you would like to officially schedule an event.
Live chat: A place to plan events, chat during events and use music bot commands.
Music Box: Playing or screen share music
Kkul FM: Chatting and talk radio
Theatre: Screen sharing for viewing videos together
Karaoke: Singing!
Game Chat: If people want to stream or play a game together or just need an extra voice channel you can use this.